Our products
and the ones we like to commercialize
OUR CIDERS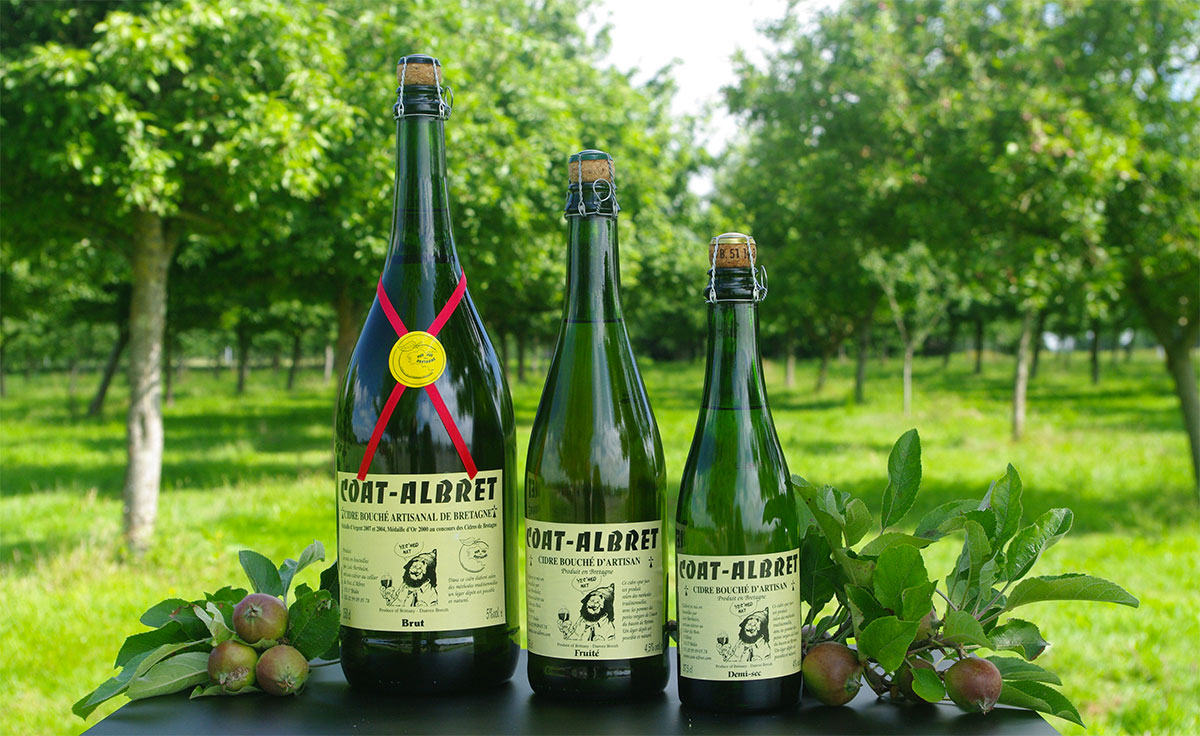 HARD
(37,5 cl - 75 cl - 150 cl)
Our hard cider is full-bodied, strong, and possesses a hint of bitterness which gives it a good length on the palate.
FRUITY
(37,5 cl - 75 cl - 150 cl)
The fruity cider is a "home invention" : it's an elegant cider with a great aromatic finesse. Its slightly acidulous notes bring a pleasant sensation of freshness in the mouth.
SEMI-DRY
(37,5 cl - 75 cl)
The sweetest of our ciders still have a lot of character : it's a generous, balanced and round cider.
APPLE JUICES AND SPECIAL VINTAGES
OUR APPLE JUICE
Available in 3L and 5L BIB
The Coat-Albret apple juice, made with cider apples, possesses our vintages' characteristics : it is fruity, slightly acidulous, strong and persistant on the palate.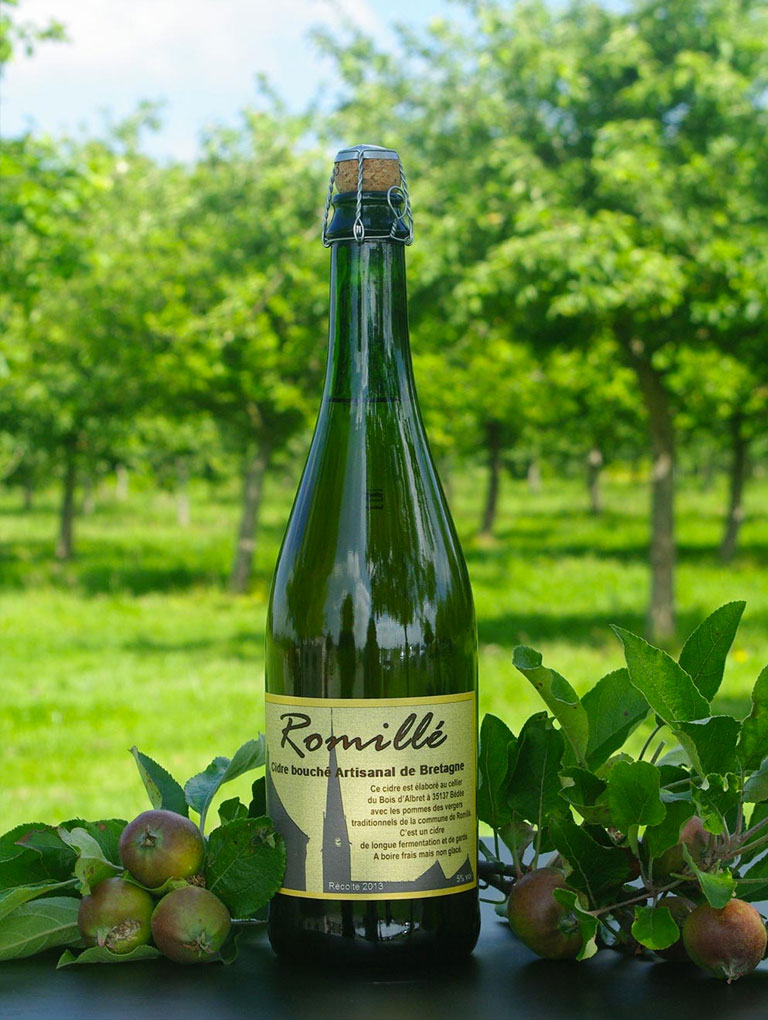 SPECIAL VINTAGES : ROMILLÉ CIDER
Available in 75 cl bottles
Depending on the season, the apples, and our fancy, we sometimes elaborate special vintages. The "Romillé" cider is elaborated exclusively with selected apples from three suppliers from the village of Romillé, a few kilometers from the cidrerie. It's an original cider, with a very good ageing potential, strong, round and slightly bitter... to be discovered !
THE PRODUCTS WE ENJOY SELLING
SAINT COLOMBE BEERS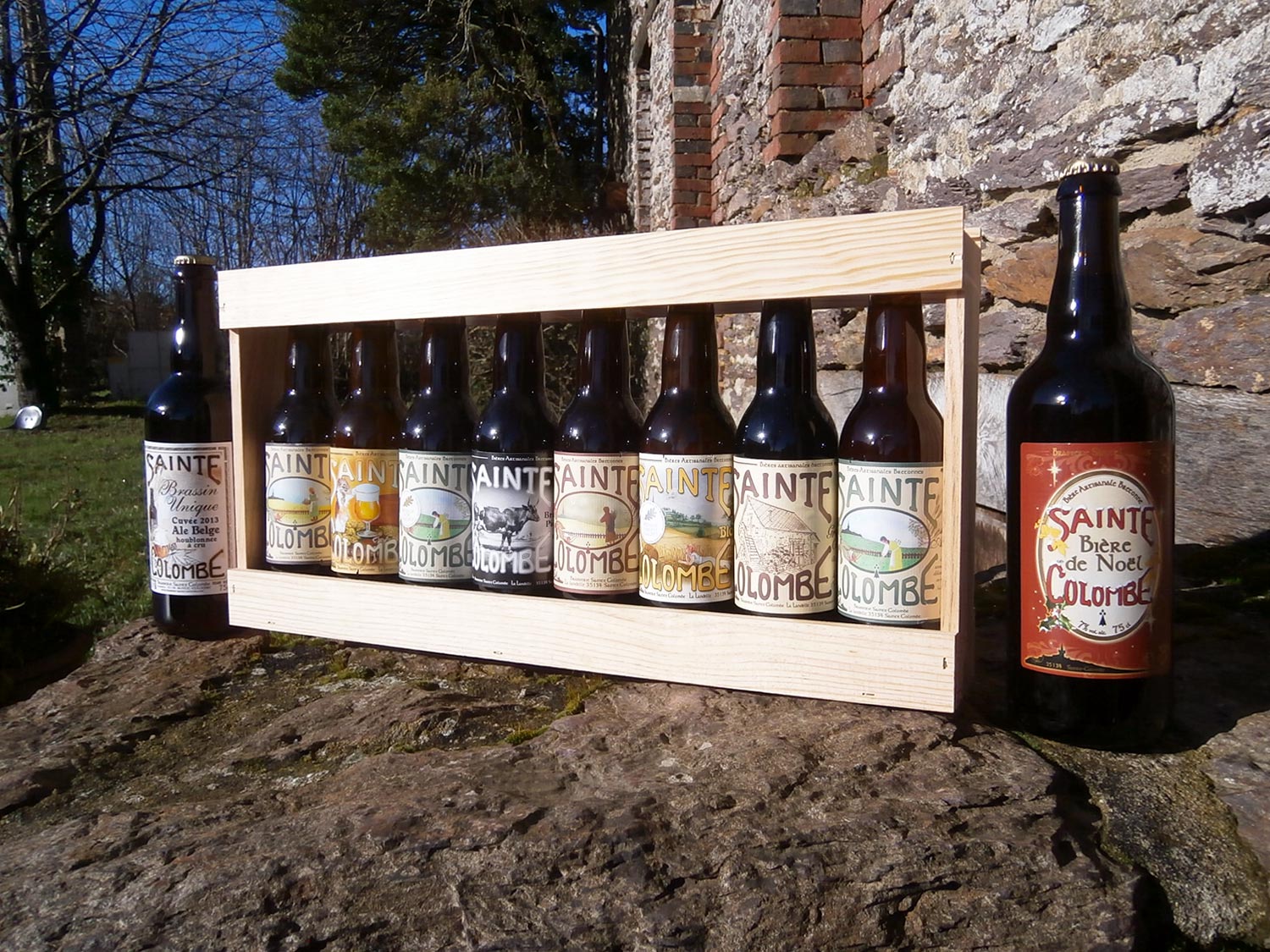 SAINT COLOMBE BEERS
Wheat (white) : Sweet with acidulous notes, fruity (bitter orange peel) and spicy (coriander).
Lager (blond) : Floral notes, lightly bitter and herbal.
Golden : Sweet with fruity notes (pear, banana) and spicy (clove)
Amber : Slightly caramelized and malted notes.
Pie Noir : Fruity (pear, banana) and spicy notes (clove), with a slightly roasted taste and a smoky after-taste.
Winter : Slightly strong with honey and spices notes. Seasonal beer.
Grand Cru : Round and full-bodied, with red berries and caramel notes (available in December and January)
Mrs and Mr Hignet's organic apple juice, La chapelle Bouëxic (35)
Cidrerie Nicol's Royal Guillevic cider, Surzur (56)
Gilles Barbé's Chamillard chouchenn, Merdrignac (22)
Gorvello Distillery's Pommeau, Petit Prince Guillevic (white pommeau) and Fine de Bretagne (cider brandy), Sulniac (56)
Maeyaert perry, Milly sur Therain (60)